Social Media & Email Marketing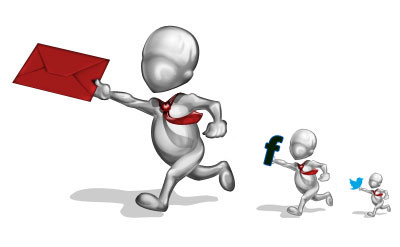 Social Media Marketing
Social medias such as Facebook and Twitter have become popular for people to communicate and share information through the internet. It is very important for businesses to take advantage of this free advertisement as it continues to grow.
Reaching all over the world through these avenues can gain potential customers for your business almost effortlessly. Your business will reach a huge audience with email and social media campaigns. Your customers and their peers will interact with you through the powers of social networking. With just one campaign being generated throughout the internet can increase the size of your business in just a short time.
Email Marketing
Advertisement has come a long way in the past couple decades. Before the times of emailing, businesses only had hand-delivered mail, television, radio, newspaper, and magazine advertisements to reach their targeted audiences.
The costs of these types of advertising were high with no guarantee of success. Through the power of the internet, we have the capability of reaching millions of customers throughout the world in just one click. Email marketing creates a large list of customers that you can send an individual email to all them at one time. Send them daily or weekly specials along with monthly newsletters to generate sales.